Ocean's 8 Review Roundup: Did Sandra Bullock and Company Wow Critics?
Girls run the world, or rather, heist in Ocean's 8. So how'd they do, according to critics?
Sandra Bullock, Cate Blanchett, Awkwafina, Mindy Kaling, Sarah Paulson, Rihanna, Helena Bonham Carter and Anne Hathaway star in the film, a spinoff of the popular comedy trilogy, directed by Gary Ross. George Clooney, who starred in the original films, co-produced Ocean's Eight, which sees Bullock play his character's the estranged sister, who attempts to pull off the heist of the century at the annual star-studded Met Gala.
Critics' reviews of Ocean's 8 have been lukewarm. Check out what several critics have said about the film.
1. Empire magazine's Ian Freer gives Ocean's 8 three out of five stars.
"There's lots to like, most of it coming from its movie star ensemble," he says. "Blanchett is cool personified, Paulson probably has the most to do (she has a run-in with Vogue editor Anna Wintour cooing over Roger Federer), Awkwafina is a lively presence, and Rihanna effortlessly erases the memory of Battleship. By the time they are strutting in full Met Gala finery to 'These Boots Are Made For Walkin',' it's hard not to root for them. There is something refreshing about seeing a group of women thrive on their wits, guile, smarts, cunning, proficiency and chutzpah rather than sex. It's just a shame they weren't tested even further. They could have handled it."
2. Screen Rant's Molly Freeman also gives the movie a score of three out of five.
"Ocean's 8 offers a fun female-fronted summer movie experience as it returns to the world of Ocean's 11, but falls short of elevating the franchise," she writes.
"Bullock is the most solid – and perhaps uninteresting – member of the ensemble as the anchor for the cast," she says. "The actress brings a depth of more potential to Debbie, but the character largely acts as the charmingly superficial center of the film's story. Blanchett's Lou, and her pantsuits, are a bright and fun foil to Debbie. Still, of the ensemble's major players, it's Hathaway's Daphne that steals the show, bringing a surprising amount of comedy and emotional depth to Ocean's 8."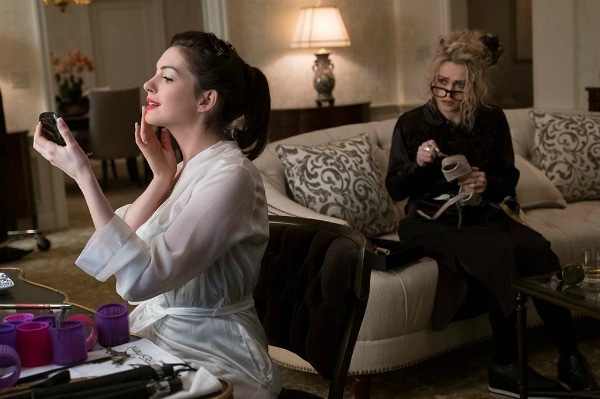 Barry Wetcher/Warner Bros.
(Excerpt) Read More at: EOnline.com