Anne Heche Says 20th Century Fox 'Fired Her' Over Relationship with Ellen DeGeneres
Actor and director Anne Heche has claimed 20th Century Fox ended her contract over her relationship with Ellen DeGeneres in the late 1990s.
Speaking on the Irish Goodbye podcast, Heche explained that she met DeGeneres in 1997 – in the same week that the comedian publicly came out – while promoting the 20th Century Fox film Volcano, which she starred in.
"Ellen and I met on a Sunday night at the Vanity Fair party," said Heche. "Tuesday was her coming out episode of the Ellen show. Wednesday was the press junket for Volcano. Thursday was the opening of Volcano.
"I took Ellen, we were told that my contract for Fox would be distinguished and I would be fired. And that the movie that I had just met Harrison Ford on wouldn't hire me. And we went to the premiere – these are the stories that I know people don't know.
"We went to the premiere, we were tapped on the shoulder, put into her limo in the third act and told that we couldn't have pictures of us taken at the press junket – and both she and I were fired that week."
Heche, who was in a relationship with DeGeneres from 1997 to 2000, added: "That wouldn't happen now because it did happen then…We have grown. We are evolving. We're not perfect. But there are things that are with voices who take changes, that's how we do it."
Ad

She joked: "F**k them man. Do I want pay back? Yes motherf**ker. Do I want them to pay me for my contract? Why do you think I'm doing stand-up? If I get loud enough they'll come back and pay me more than a drink ticket."
Heche also said that Harrison Ford, her co-star on the 1998 film Six Days, Seven Nights, proved supportive of her relationship with DeGeneres.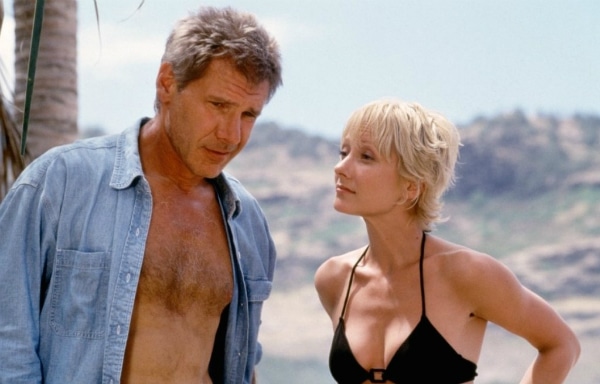 She said that Harrison had phone her up, telling her: "Frankly my dear, I don't give a f**k who you're f***ing, we have a movie to make. Let's make it the best one ever."
Heche, whose career nosedived soon after her highly publicised relationship with DeGeneres was revealed, added: "And then after that I never did a studio picture for 10 years."
Talking about meeting DeGeneres for the first time, Heche said: "When I met Ellen…she was beaming light. There was nothing that could have shone brighter than who she was in the centre of that room. I'll never forget.
(Excerpt) Read More at: PinkNews.co.uk