The rush of films inspired by the dramatic rescue of 12 boys and their football coach from a flooded cave in Thailand has now expanded to encompass six, plus a documentary, and a government committee has been set up to co-ordinate and oversee the planned productions.
Thailand's Ministry of Culture says it expects the military government's Cabinet next week to approve the establishment of a special committee to oversee all film projects relating to the dramatic mission.
According to the Thai newspaper the Nation, Thailand's culture minister, Vira Rojpojchanarat, said: "Five international film production companies have proposed to the Commerce and Foreign ministries that they make a movie and a documentary about the rescue operation." Variety magazine has reported a sixth production is in the works, from Thai-based outfit DeWarrenne Productions.
"Now You See Me 2" director Jon M. Chu and Ivanhoe Pictures last week said they were teaming up on a movie about the rescue operation. Their announcement came a day after Pure Flix Entertainment announced that it, too, was seeking the movie rights to the mission.
Pure Flix, behind such faith-based films as the "God's Not Dead" movies, and "Do You Believe?", said its project would focus on the inspirational aspects of the story. Chu, whose tribute to decadence, "Crazy Rich Asians," releases next month, said he would not allow Hollywood to whitewash the rescue. "There's a beautiful story about human beings saving other human beings," Chu said on Twitter.
Discovery Channel has already shot an hour-long documentary, "Operation Thai Rescue," which aired in the U.S. last Friday and will air in Thailand next Monday.
Ad

Besides the five international initiatives, DeWarrenne Productions, headed by Thai-Irish producer-director Tom Waller ("Mindfulness and Murder," "The Last Executioner") said it was developing a script that would focus on the Thai elements and the unsung heroes.
The rescue of the Wild Boars soccer team from flooded caves about two miles beneath the mountains in Tham Luang provides plenty of rich source material: the heroic efforts of local and international divers, the clever use of technology, a race against time before summer rains delayed rescue attempts for months, the psychological hurdles that the boys will continue to face. The youths had all but given up hope before emerging to a media scrum and hospital quarantine, and commentators have been quick to suggest that their lives will never be the same again.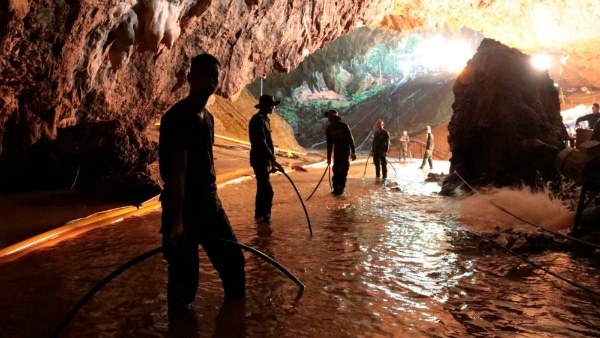 Long a regional filmmaking hub, Thailand last year initiated a production rebate scheme in order to stay competitive with other locations. The scheme offers a 15% rebate of qualifying local production spend. The rebate figure can rise to 20% in the case of movies that promote national interests and provide a positive image of the country.
Thailand's ruling junta is understood to be keen for some good PR to rub off, especially for its all-important tourism industry, and ahead of planned elections in 2019. While the cave rescue was underway, the country suffered its deadliest civilian nautical tragedy when 47 Chinese tourists drowned after the Phoenix dive boat sank off Phuket after ignoring coast guard warnings of heavy seas. An ugly dispute has erupted, with the Thai authorities distancing themselves from responsibility and appearing to blame the boat's Chinese owner or the tourists themselves.
After the 2012 hit film "Lost in Thailand," the number of Chinese tourists swelled. Some 12 million Chinese visitors were expected to visit Thailand this year, but Thai media report that thousands of trips by Chinese visitors have been canceled since the Phoenix tragedy.
(Excerpts) Read More at: Variety.com and TheGuardian.com