On June 19, MSNBC cut from a lengthy segment on border chaos and immigration policy right into a commercial break that featured a guns-blazing ad for Sicario: Day of the Soldado. The trailer, which depicted gruesome border violence carried out by the Mexican drug cartels, made for a awkward segue as it touted the film's June 29 release.

But the placement of the trailer was entirely coincidental given that spots for the movie were bought long before border issues, including images of children separated from their families, began dominating the news cycle, according to sources. Still, it raised the question of whether Sony, the film's distributor, would alter its marketing plan in light of current events.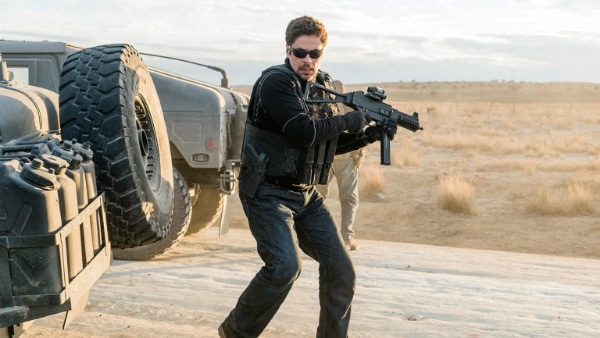 With one day to go before the film opens, the answer appears to be no. The studio has neither leaned into the hot-button coverage of America's southern border nor pulled TV ads that might be seen as insensitive or opportunistic given the depictions of real-life human suffering on the news. Instead, although the studio declined to comment, it appears to be sticking with its original marketing plan. As is typical, Sony declined to discuss the film's marketing strategy.
The Sicario sequel isn't the first film to find its plotline — in this case, the film literally opens with U.S. agents apprehending migrants in the nighttime desert — dovetailing with a trending news story. Sony saw its Zero Dark Thirty hit theaters in December 2012 just as the practice of so-called "enhanced interrogation" — depicted in the film about the lead-up to the killing of Osama bin Laden — was drawing increased criticism in print and on the airwaves. In that case, the studio's publicity and marketing push didn't shy from the news coverage, with director Kathryn Bigelow opting for interviews with the likes of CBS News over softer outlets. The film became a flashpoint, criticized for justifying torture by the far left and as pro-Obama propaganda by the far right. The controversy didn't hurt, with the film earning $133 million worldwide, the bulk of that, $96 million, in North America.
(Excerpt) Read More at: HollywoodReporter.com