Matt Lauer May Have to Pay Annette Roque $50 Million in Divorce
Matt Lauer is finally paying the price for his alleged inappropriate behavior over the years. The 60-year-old former Today host and his wife, Annette Roque, are close to finalizing their divorce settlement — in which Lauer will reportedly have to fork over $50 million.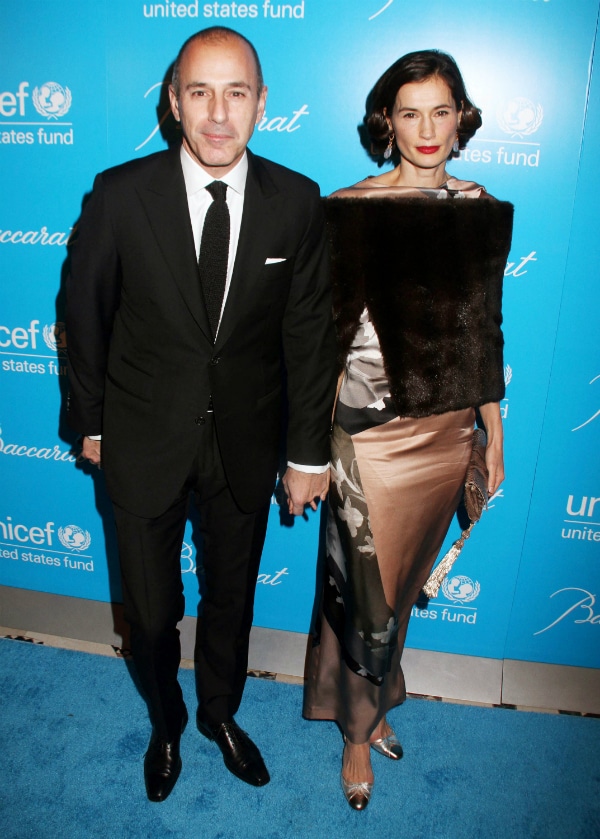 Matt Lauer and Annette Roque INSTAR Images
"He's going to be forking out around $50 million in a settlement," a source told Us Weekly this week. "She will receive the horse farm, their current residence and a one-time payment of $25 million."
The disgraced journalist and TV personality is allegedly "furious" that "he is essentially handing over half of his net worth to Annette," to whom he has been married for 19 years. He is allegedly only agreeing to the settlement because he wants the ordeal to be over.
Lauer was fired from the Today show in November 2017 after he was reported for sexual misconduct in the workplace and admitted to taking part in sexual activity with the colleague. A source told Us in January that the disgraced veteran journalist and Roque had quietly "started the divorce process" following his scandal.
An internal investigation into the allegations against Lauer revealed that there was no evidence that NBC News executives or human resources "received complaints" about Lauer's alleged widespread behavior before Nov. 27, 2017.
Ad

According to the May 2018 report, the women who accused Lauer of harassment "confirmed they did not tell their direct manager or anyone else in a position of authority about their sexual encounters with Lauer."
While Lauer did not agree with all the findings of the report, he said in a statement that he has taken "responsibility" for his relationships with co-workers.
"There are aspects of the NBC report with which I clearly disagree. However, I spent 25 wonderful years at the network, 20 of those at Today, and I'm extremely proud of what we accomplished as a team. On November 29, 2017, I was terminated by NBC after admitting to past relationships with co-workers. A day later I took responsibility for those relationships, apologized to the people I hurt and promised to begin the process of repairing the damage I had caused my family," Lauer said. "I have worked every day since then to honor that promise."
Since his firing, Lauer has spent much of his time out of the spotlight and at his home in the Hamptons.
(Excerpts) Read More at: USMagazine.com and PopCulture.com