50 Years Later, a Starry The Boys in the Band is Reborn on Broadway
In 1968, the same year that The Boys in the Band debuted Off Broadway, Phllip Morris launched Virginia Slims, its new female-focused tobacco brand, with the tagline "You've come a long way, baby."
Conflating gay liberation with a campaign designed to make women smoke skinny pastel cigarettes might be a reach, but it's almost impossible not to think of that phrase while watching the current revival — now staged in a prime spot at on Broadway and stacked with some of the most successful out actors working in the industry today.
Half a century on, Mart Crowley's landmark portrayal of eight men gathered to celebrate a birthday in New York City feels like both a lovingly preserved time capsule and a sometimes stark distillation of what has and hasn't changed since its debut. His script is still funny and cutting and heartbreaking, too; it's also a fraught, glittering showcase for actors, which undoubtedly helped lure a top-line cast that includes Jim Parsons, Matt Bomer, Zachary Quinto, and Andrew Rannells.
Parsons' Michael is the evening's host, an erstwhile writer with tastes to match his Steel Magnolias drawl and Georgetown pedigree. His sweaters are strictly cashmere, and his duplex apartment, designed by Tony winner David Zinn (The Humans) is a bachelor's paradise, a mod pleasure dome of plexiglass and maroon velour. (How he pays for it, or doesn't, is another question.)
Michael's guests include his sometime boyfriend, the chiseled, kind-hearted Donald (Bomer); gentle Bernard (Michael Benjamin Washington) the only black man of the group; and the tartly flamboyant Emory (Robin de Jesús), bearer of both lasagna casseroles and the evening's most interactive gift, a singing-cowboy Candygram in skintight Levis and a ten-gallon hat (Charlie Carver).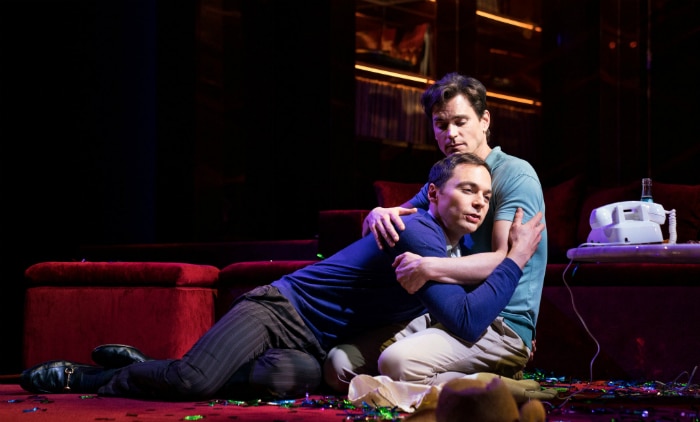 In the 2010 revival of "La Cage aux Folles," Mr. de Jesús portrayed a similar archetype, which he took so far over the top you expected him to float away. In this role, he grounds the classically effeminate gay man in a bedrock of genuine pain, yes, but also resilience.
Some pundits who see "Boys" as a sort of positive prophecy have said that they could imagine Emory later joining the barricades during the Stonewall uprising of 1969. Mr. de Jesús justifies that prediction, and makes — who'd have thought it? — silly old Emory the best reason to hope for the futures of the time-warped boys of this disharmonious band.
(Excerpts) Read More at: EW.com and NYTimes.com