Curb Your Enthusiasm star Larry David and his now ex-wife, Laurie, welcomed daughter Cazzie David in 1994. And while growing up with famous parents can often be tricky for a child who harbors showbiz ambitions of her own, it's definitely been more of a blessing than a curse for the young actress and comedian.
She shares the same values as her "eco warrior" mother, but it was her dad who had the biggest influence on her career path, schooling her in the ways of awkward comedy from a young age. Now in her mid-20s, she's starting to put that education to good use.
Cazzie David came to the attention of the public in 2015 after sharing a picture of herself and her famous father touring a Civil War battlefield. "Someone randomly posted it to another Instagram account, and a bigger site reposted it," she told W magazine. "I got like 20,000 follower requests overnight. I was so panicked because I didn't know what I was doing. It was weird. But I just decided to go public. I was like, 'I'll take the followers and run.'" She's managed to build a significant following on the social media platform since, becoming one of the more likable rich kids of Instagram.
She later found herself in the news for all the wrong reasons in 2018, thrust into the limelight after her comedian ex-boyfriend hooked up with a pop star. But it turns out that there's more to Cazzie David than first world problems.
She hates the 'rich kid' tag
Coming from a famous family has allowed Cazzie David to enjoy the finer things in life on the regular, but she really doesn't like the "rich kid" tag she's been given. Speaking to Coveteur magazine in 2017, the social media starlet insisted that she never goes out of her way to show off on Instagram, but sometimes it just can't be helped. "When my Instagram first gained a little bit of attention, people were like, 'Oh, this rich kid of Instagram.' It was uncomfortable because that's so not what I want anyone to think about me," she said. "But I was like, what am I supposed to do? Instagram me taking out the trash?"
Ad

She claims she's no expert, but the fact that she has a set of Instagram rules that all would-be influencers should follow says otherwise. In a 2016 piece she penned for Vanity Fair, David shared the secrets of her success, advising Instagrammers on everything from dealing with birthdays to the vitally important "hot-to-funny" ratio. "I would be lying if I said I don't overthink all of my posts," she told W. "I will test it on a fake account to see if it looks okay. I also have to stare at a photo of myself for a long time, and find literally nothing wrong with it. And of course, over time I will find something wrong and delete it."
David graduated from Boston's Emerson College in 2015 and moved straight back into her dad's house, where she's been living ever since. In a February 2018 piece that she penned for InStyle, the comedian revealed that she chose to live with her father because he's dying, though fans of the comedy legend needn't be too worried. "Yep. He's dying," she wrote. "No, he is not sick—nor has he been diagnosed with anything. Not yet, anyway. But someday he will die, because everyone dies. So every moment with my father must be cherished. Yes, he's in great health and will, hopefully, be 130 when he passes away, but it doesn't matter."
She's a chip off the old block when it comes to her cringe-inducing style of comedy, which she apparently uses as a coping mechanism as much as anything else. Speaking to Glamour in 2017, the gorgeous comedian revealed that her father taught her how to channel her bad feelings into humor. "My dad told me at a super-young age that what I need to do to feel fulfilled and not sad and alone is to write comedy," she said. "Hopefully, he's right—or I'll really have been putting myself out there for no reason."
She's a 'hypersensitive' person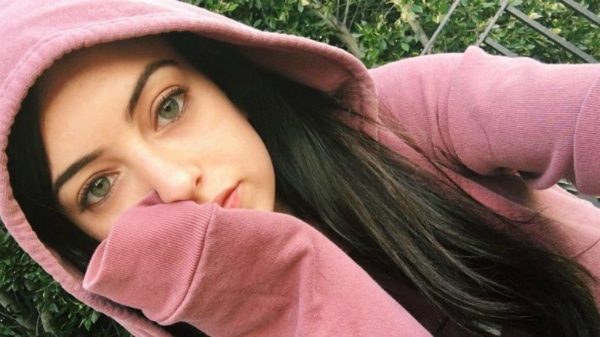 David has been doing a pretty good job at putting herself out there so far, but choosing to open herself up to public scrutiny wasn't an easy decision for her to make. She told Glamour that she found it "super difficult" to be in the spotlight because she has "no confidence whatsoever," but her dad has always been on hand to offer advice on working with awkwardness. "We're both hypersensitive, which is a quality that tends to work against you," she explained. "But because he had a full life of figuring out how to use it to his advantage and make it a beneficial quality, I didn't really have to."
David also praised her father's influence on her growing up during her 2017 interview with Coveteur. The comedian told the fashion and lifestyle mag that she never imagined she'd be able to go into acting when she grew up because of her self esteem issues, but that didn't stop her from writing her own material. "I would write stories sometimes and they would end up being unintentionally funny," she said. "When you're miserable, it can be funny. That's something my dad told me."
(Excerpt) Read More at: NikkiSwift.com