Fox has officially ghosted on "Ghosted" after just one season.
The Adam Scott and Craig Robinson-led comedy from creator Tom Gormican has been canceled by the broadcast network, less than a week after airing its first season finale — which will now be its last.
The news isn't surprising since the show has maintained low ratings for the network. Rumors of cancellation started in April when Fox pulled the series from its lineup after airing the first 16 episodes. The season resumed with the final six episodes on June 10.
An individual with knowledge of the decision tells TheWrap that, while the network was "proud of the show," the addition of "Thursday Night Football," as well as new comedies on Fridays and Sundays, and the large amount of returning shows next season, Fox's schedule couldn't accommodate a second season of "Ghosted." However, a few unaired episodes from the first season may still become available for viewing at a later date.
The story followed polar opposites who were recruited by a secret organization called the Bureau Underground to investigate paranormal activity in the Los Angeles area. Robinson played quick-witted ex-detective Leroy Wright who is skeptical of the supernatural. Meanwhile, Scott's Max Jennifer wrote a book on the multiverse and became a true believe after his wife was kidnapped by aliens (though no one believed him). The series came from Tom Gormican who also penned the script for the film That Awkward Moment.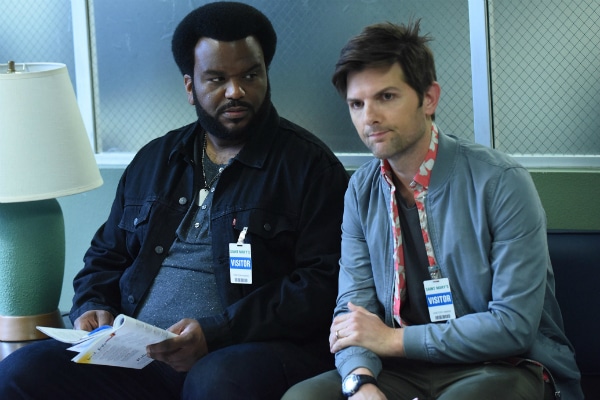 "Ghosted"s cancellation is the latest in a string of Fox sitcom deaths, as the network prepares for its 2018-19 season. The show's status had been in limbo for some time, as Fox cut comedies "Brooklyn Nine-Nine," (saved by NBC one day later) "The Mick" and "Last Man on Earth" all at once ahead of its upfront presentation in May, and then nixed freshman series "LA to Vegas" the week after. But it left "Ghosted"s — which came back in April after going on hiatus in January — status up in the air until after it finished off its first (and now last) season Sunday.
Ad

Fox will kick off the fall with an entirely new slate of comedies including Last Man Standing, which was picked up by the network after ABC's cancellation, and Rel starring Get Out scene stealer Lil Rel. The network also just signed a five-year deal with the WWE to air Smackdown on Friday nights starting in 2019.
(Excerpts) Read More at: TheWrap.com and TVGuide.com