Disney Ups Fox Bid to $71.3 Billion, Outflanking Comcast
The Walt Disney Company has boosted its bid to acquire the bulk of 21st Century Fox, raising its offer to $71.3 billion in cash and stock. In a statement, Fox said Wednesday that the new deal is significantly better than Disney's earlier offer and "is superior to the proposal made by the Comcast Corporation."
The new bid is $38 a share, up from Disney's $28 a share offer in December and rivaling Comcast's $35 a share all-cash bid last week. Comcast's deal is valued at $65 billion.
The bidding war was expected as the two media giants battle over Fox's movie production business as well as networks National Geographic and FX, Star TV, stakes in Sky, Endemol Shine Group, Hulu and regional sports networks.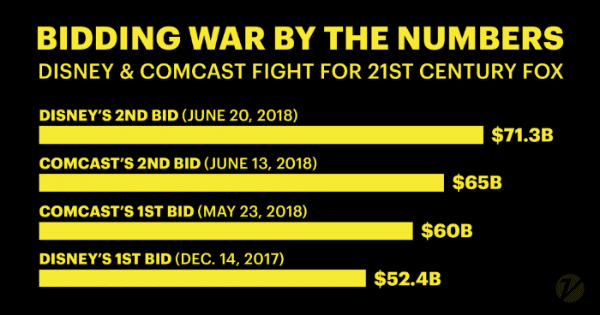 Disney's new bid allows Fox shareholders to choose cash or stock. Fox called the new Disney offer "superior" to the Comcast proposal.
Fox's Executive Chairman Rupert Murdoch and Disney CEO Robert Iger met Tuesday night before this new bid was submitted, sources told CNBC's David Faber.
Disney said it would now pay $38 per share for Fox, up from its initial bid of $28 per share. The deal would be about 50% cash and 50% stock, and debt would be used to partly finance the transaction.
Despite the sweetened offer, Fox's board said it retained the right to weigh competing bids. Comcast, which had proposed to pay $35 per share, declined to comment on Disney's freshened offer.
"We are extremely proud of the businesses we have built at 21st Century Fox, and firmly believe that this combination with Disney will unlock even more value for shareholders as the new Disney continues to set the pace at a dynamic time for our industry," said Rupert Murdoch, executive chairman of 21st Century Fox. "We remain convinced that the combination of 21CF's iconic assets, brands and franchises with Disney's will create one of the greatest, most innovative companies in the world."
As part of the deal, Disney would acquire 20th Century Fox, Fox's film studio, as well as a cable group that includes FX Networks, National Geographic and several international channels and regional sports networks. Also included is Fox's 30% stake in Hulu and 39% interest in European satellite broadcaster Sky.
Fox shares were up 7.3 percent Wednesday, while shares of Disney rose around 1 percent. Iger said on a conference call that Disney does not expect to complete the $20 billion share buyback it announced in December.
Disney's bid in December was a stock deal worth $52.4 billion at the time, but CNBC has reported that the company was willing to add cash to sweeten the offer if a rival stepped in. Disney said Wednesday, "Since the original agreement was announced, the intrinsic value of these assets has increased, notably due to tax reform and operating improvements."
Ad

Fox's board had a scheduled meeting on Wednesday at which it was expected to talk about Comcast's rival bid.
Fox said its board hadn't concluded Comcast's unsolicited bid "could reasonably be expected to result in a 'Company Superior Proposal' under the Disney Merger Agreement."
Fox would retain some assets, including Fox News and Fox Broadcasting Company, and regroup them in a new standalone company run by Murdoch and his son Lachlan.
"After six months of integration planning we're even more enthusiastic and confident in the strategic fit of the assets and the talent at Fox," Disney chief Bob Iger said in a statement. "At a time of dynamic change in the entertainment industry, the combination of Disney's and Fox's unparalleled collection of businesses and franchises will allow us to create more appealing high-quality content, expand our direct-to-consumer offerings and international presence, and deliver more personalized and compelling entertainment experiences to meet growing consumer demand around the world."
The battle for Fox has transfixed the media industry, pitting Iger against Comcast head Brian Roberts, with control of one of Hollywood's most storied film and television brands in the balance.
(Excerpts) Read More at: CNBC.com and Variety.com
Video Source: Wochit Business