Beyoncé and Jay-Z's Everything Is Love Lyrics: Cheating, Forgiveness and the Carters on Top
Hope you didn't have any plans for Saturday night! Beyoncé and Jay-Z just dropped their surprise joint album Everything Is Love on Tidal. The album has nine standard-issue tracks and some seriously loaded lyrics…
There's rapping, romance, family, forgiveness, a Blue Ivy Carter cameo and—well, there's a lot. To help you make sense of Everything Is Love, we've broken it down track-by-track.
1. "Summer"
Consider this track the chilled out, mature version of "Crazy in Love." Bey sings, "Let's make love in the summertime, yeah / On the sands, beach sands, make plans / To be in each other's arms, yeah / I wanna drown in the depth of you / When the water's so blue, so blue, so blue." Jay keeps the vibe mellow with his smooth insertion of a "Let it breathe, let it breathe" into the chorus.
The catchiest lyric, undoubtedly, is Mrs. Carter's, "Up and down motion, come swim in my ocean, yeah yeah."
"Summer" isn't just about romance, though. Jay-Z goes back to his own childhood—then brings it to his kids'—when he raps, "I remember nights in the projects / Bullet rounds interrupting my Chi / When the worst thing that could happen / Zipped-up his jacket and ran back down the street / In Bel-Air only the nights get cold, I wrapped a yellow jacket around me / It's not lost on me, music has my kids sound asleep."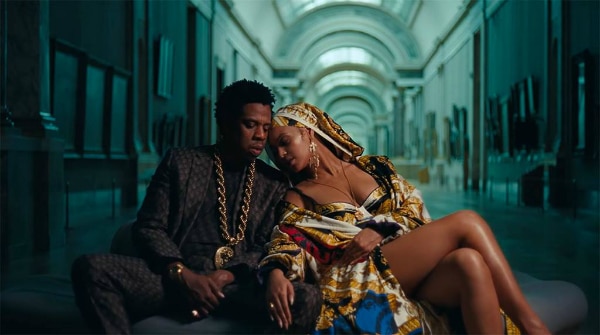 2. "APES–T"
It turns out Jay-Z's not the only rapper in this family. In the Carters' first joint album single, Beyoncé gives her man a run for his money on the mic.
In her first verse, she raps, "RAH, gimme my check / Put some respect on my check / Or pay me in equity, pay me in equity / Or watch me reverse out the dick (Skrrt) / He got a bad bitch, bad bitch / We live it lavish, lavish / I got expensive fabrics / I got expensive habits / He wanna go with me / He like to roll away / He wanna be with me / He wanna give me that vitamin D / Ice ornaments, icy style tournaments / You ain't ownin' this / Don't think they ownin' this / Bought him a jet / Shutdown, collect / Phillippe Patek /Get off my dick."
Jay sets the record straight on a rumored halftime performance ask, rapping, "I said no to the Super Bowl / You need me, I don't need you / Every night we in the end-zone / Tell the NFL we in stadiums, too."
Ad

He also raps about his 4:44 album's ultimate Grammys snub. As Jay puts it, "Tell the Grammys f–k that 0 for 8 s–t."
The chorus makes it clear, though, that Jay and Bey don't need trophies or stats to prove their success. "I can't believe we made it (This is what we made, made)," she sings. "This is what we're thankful for (This is what we thank, thank) I can't believe we made it (This a different angle) / Have you ever seen the crowd goin' apesh–t?"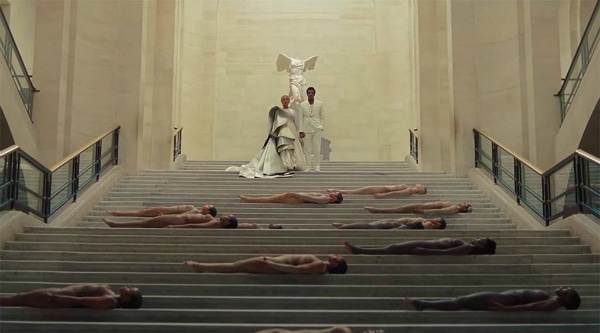 3. "Boss"
Beyoncé isn't bossy—she's the boss. In this track, she isn't shy about her success, either.
"Ain't nothing to it, real one / Ain't nothing to it, boss," she sings. "Ain't nothing to it, real one / Ain't nothing to it, I boss / Ooh, real one, I'm a boss."
"My great, great, grandchildren already rich," she sings, "That's a lot of brown children on your Forbes list." (Fun fact: Beyoncé has topped Forbes' list of the highest-paid women in music multiple times—including this past year.)
Jay taps on his success, too, rapping, "Hundred million crib, three million watch, all facts / No cap, false n—a you not a boss, you got a boss."
Later in the verse, he raps, "It's disturbing what I gross (What I gross) / Survey says you not even close (Not even close) / Everybody's bosses, to the time that pay for the office / To them invoices, separate the men from the boys / Over here we measure success by how many people successful next to you / Here we say you broke if everybody gets broke except for you / Boss!"
The best part of "Boss" comes in the last few seconds when Blue Ivy, 6, hops on the track to "shoutout" (literally) to her 1-year-old twin brother and sister. "Shoutout to Rumi and Sir," she says sweetly, "Love, Blue."
(Excerpt) Read More at: EOnline.com